When I work on a painting, I step back frequently to see how things are progressing. I can't make good judgments and decisions about what the painting needs if I am always right on top of it at the easel. It's so important to step back and assess, thereby avoiding unwanted problems that are difficult to resolve.
As the painting nears completion, the time spent observing and looking increases. I might make a mark or two and then step back, make another mark and then step back again. In the early stages, it's easy to correct any missteps, but closer to completion, it is important to make marks that have definite purpose and are needed for the painting. Without stepping back, it's easy to be mindlessly making marks that are superfluous or that head in the wrong direction.
When I am not sure if the painting needs more work, or if I know it needs more work but don't know what the resolution is, the painting is in what I call the "look at" stage." At this stage, I spend a lot of time just loooking at my painting without pastel or paintbrush in hand. I look and think, look and ponder, and look some more. This may take days with off and on looking. Sometimes, this stage has lasted a few months. I won't go back to work on the painting unless I am certain I know what I want to do. Occasionally, I will find there is nothing more to be done, but invariably, there is a little finessing here, a little finessing there that is needed.
Shadows on the Road, a 30 x 30 oil painting has gone through many stages. In the iPhone photo above, it is in the look at stage and not yet finished. Here are some earlier stages, all captured with my iPhone: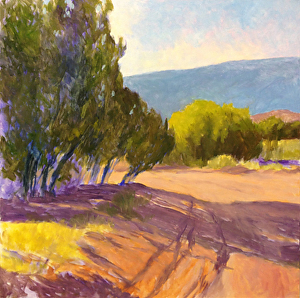 One of the early stages. You can still see parts of my underpainting.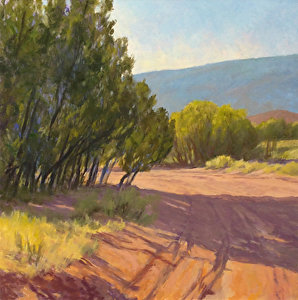 This photo is about mid-way through the painting. I decided the diagonal line of the green trees on the left was too severe.
Here is the same scene from a different photograph, painted over a year ago as a 9 x 12" oil. I've also done two 6 x 6" pastel versions before exploring the image further in the current 30 x 30" oil.